Transplant Immunology & Immunogenetics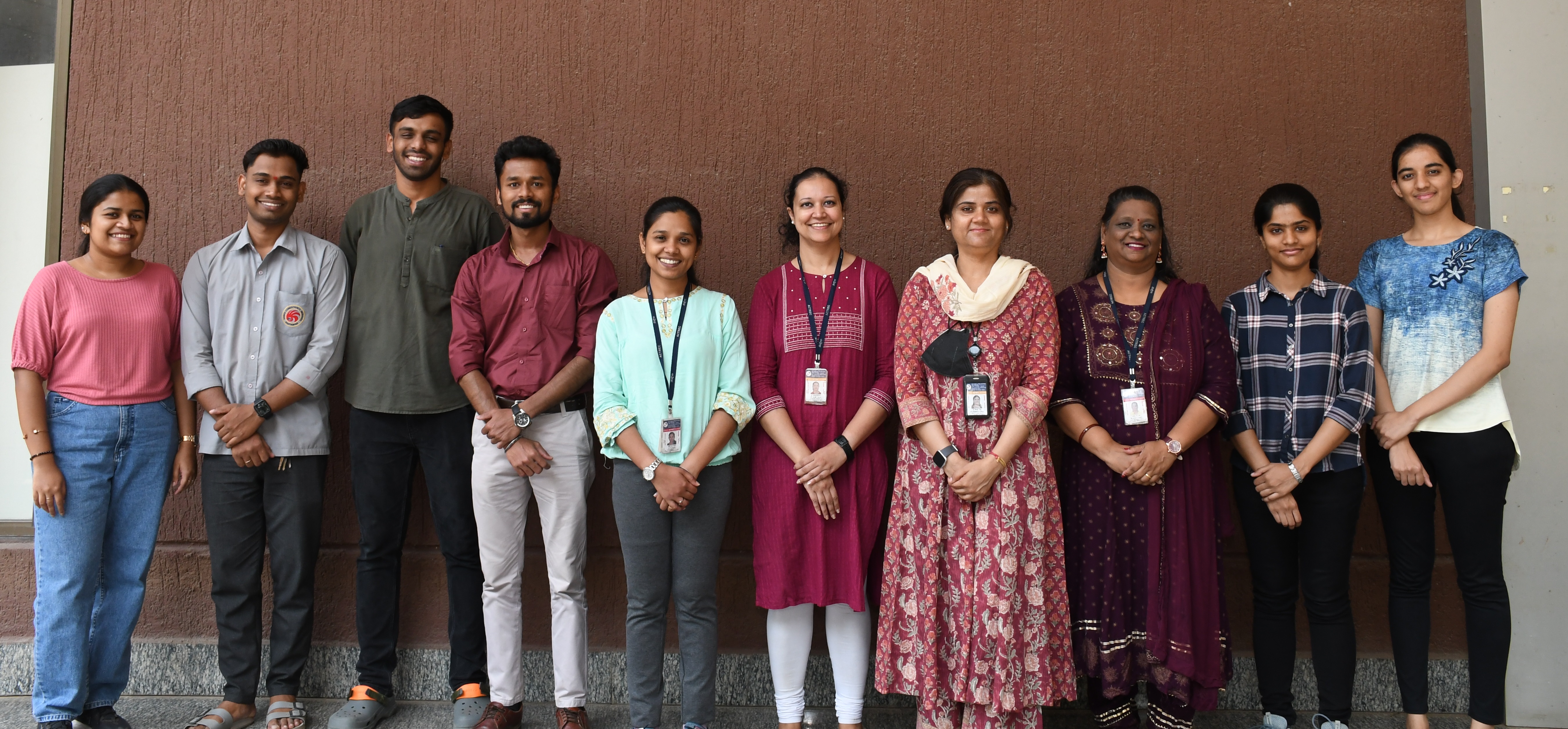 Officer in charge : Dr. Meenakshi Singh
Overview
Transplant Immunology & Immunogenetics (TII) Laboratory situated at ACTREC, Kharghar provides comprehensive histocompatibility (HLA) testing. HLA stands for human leukocyte antigens, and are proteins or markers on most cells in our body. Our immune system uses HLA to recognize which cells belong to our body and which do not. The HLA tests (here) are performed to screen donors for patients undergoing Hematopoietic Stem Cell Transplantation (HSCT).
The laboratory provides patient care services to patients referred from Tata Memorial Centre (TMC) and other medical centres/hospitals. The policy of the laboratory is to provide reliable, accurate and timely services to all our patients and referring clinicians. The laboratory is NABL (National Accreditation Board for Laboratories) accredited and participates in External Quality Assessment program (EQAS) with All India Institute of Medical Sciences (AIIMS). The laboratory staff is highly skilled team of Clinical Laboratory Scientists, Scientific Assistants, and Administrative staff.
Laboratory provides following tests
HLA Genotyping Assays
Low resolution HLA typing by Sequence specific primer (SSP) method
Low resolution HLA typing by Sequence specific oligonucleotide probe (SSO) method
High resolution sequence based HLA typing by Sangers Sequencing method (SBT)
High resolution sequence based HLA typing by Next Generation Sequencing (NGS) method
Killer Cell Immunoglobulin Receptor (KIR) genotyping by Sequence specific primer (SSP) method
HLA DRUG HYPERSENSITIVITY
HLA DRB1*15- Cyclosporine/Tacrolimus
HLA B*58:01- Allopurinol
HLA B*57:01- Abacavir
HLA B*13:01- Dapsone
HLA A*31:01- Carbamezapine
HLA B*15:02- Phenytoin
DISEASE ASSOCIATION
HLA B*27 Ankylosing Spondylitis
HLA B*51 Behcets Disease
HLA DRB*1 Rheumatoid Arthritis
FREQUENT SPONTANEOUS ABORTION
Alloimmunization testing
Donor Specific Antibody (DSA) Assay
Single Antigen Bead based assay using Luminex technology for HLA Class I and Class II antigens.
Single Antigen Bead based assay using Luminex technology for C3d compliment binding antibody [C3d Single Allele Antibody Class I & II]
Panel Reactive Antibody (PRA) Screen using Luminex technology [Pre and Post Transplantation]
HLA Testing for Other Purposes
In addition to the services described above for transplant patients, HLA testing for the following conditions are also performed:
Platelet transfusion support: Patients with low platelet counts are at risk for serious bleeding complications and are often transfused with platelets from healthy donors. However, patients can sometimes produce antibodies to the HLA molecules expressed on platelets, which reduce the effectiveness of platelet transfusion. HLA typing and antibody detection help physicians choose a platelet donor that will result in increased platelet counts for patients in need.
Education and Courses
The TII laboratory runs Ph.D. degree program affiliated to the Homi Bhabha National Institute (HBNI). An aided institution of the Department of Atomic Energy and a deemed to be university under section 3 of the UGC Act. The information and due procedure of application can be obtained from "Academic and Project Cell", ACTREC Email: tii.hla@actrec.gov.in and Tel: Contact Tel: 022 6873 5000 (Ext. 5828/5820).
Orientation program is conducted at TII for Fellows, DM students from Medical Oncology and Transfusion Medicine.
The lab also offers short term research projects (dissertation) for Mumbai University and other universities M.Sc. /M. Tech/B. Tech programs. Contact Tel: 022 6873 5000 (Ext. 5828/5820) 15 days to 1 month Observer ship is offered to medical post-graduates, scientists, science post-graduates from India and from other countries as well under the scope cell. Contact Tel: 022 6873 5000.(Ext. 5828/5820).
Research
The laboratory conducts research primarily focused on improving the methods/ techniques for donor selection/screening and also for developing an algorithm for donor selection, with regular publications in national and international peer reviewed journals. The Laboratory staff participates in conferences and education programs thereby fostering greater awareness levels among staff. The research area is broadly focused on the various aspects of Transplant Immunology & Immunogenetics with relation to various hemato-lymphoid and solid organ transplants. The lab also focuses on translational research using molecular, proteomics, etc. techniques in developing Lab-to-Clinic oriented novel assays with implications in the diagnosis and prognosis of transplant patients resulting in better treatment outcomes and patient care. Pharmacogenomics and disease association in relation to HLA is also being explored.
The lab has various ongoing research projects focussed on improving HLA diagnostics as well as exploring adoptive cellular therapies for leukemic patients.
Molecular studies
The research under this area are:
Non HLA genes associated with allogeneic hematopoietic stem cell transplantation This project is aimed at screening Killer immunoglobulin like receptor genes, polymorphisms within the cytokine and chemokine genes, immune reconstitution profile of the patient at baseline and follow up and correlate them with HSCT outcomes
Impact of HLA typing resolution on donor selection and transplant outcomes in matched Allogeneic Hematopoietic Stem Cell Transplantation.
The aim of this project is to evaluate the role of high resolution HLA typing in predicting HSCT outcomes.
Interaction of Vitamin D Receptor gene polymorphism with HLA alleles and its correlation with immune modulation affecting graft outcomes and survival in HLA matched sibling allogeneic stem cell transplantation. This study is planned to investigate the relationship between VDR gene polymorphisms, Vit. D levels pre transplantation and the transplant outcomes in HLA matched HSCT.
Immunotherapy focussed studies
The ex-vivo and in-vivo research on "adoptive cell immunotherapy" like Virus-specific T-cell (VSTs) and NK cell immunotherapy in Allogeneic-HSCT has been a focus of our lab. The projects under this area of research are:
Generation and Characterization of third party donor derived AdV, CMV and EBV multivirus specific T cells for therapeutic intervention in patients undergoing Hematopoietic Stem Cell Transplantation
Through this project we aim to generate multivirus (AdV, CMV, and EBV) specific T cells which could then be scaled up to GMP and infused in leukemic patients who encounter such viral infections.
Implications for NK Immunotherapy: Killer Immunoglobulin like receptor-Human Leukocyte Antigen ligand match/mismatch in post cyclophosphamide T cell replete haploidentical/mismatched HSCT outcomes in AML
This is a proof of concept project where we are aiming to prove the NK cell cytotoxicity based on the KIR receptor-ligand match/mismatch hypothesis. We will also be looking at the KIR profile pre and post HSCT to look at the functional NK cells being reconstituted. This project will serve as a base for scale up to NK immunotherapy.
International Workshops
TII Lab has been a part of the international consortium on Immunogenetics by participating in the 18th International HLA & Immunogenetics Workshop (IHIW), held in Netherlands from 11th -15th May 2022.
The lab participated in the following components of the workshop:
Population genetics, anthropology and evolution
For this component, the lab performed high resolution (NGS) HLA typing for 11 loci in 184 unrelated healthy donors from India. A total of 25 novel alleles were observed, which have been added to the IMGT database and have been published in the peer reviewed HLA journal (Impact Factor 9.2)
High-resolution KIR in populations
As part of this component, KIR high resolution typing (NGS) was conducted for the KIR inhibitory genes in 120 unrelated healthy donors from India. This is the first data from Indian population.
Publications (2019-2023)
Future Plan
The lab is aiming forward to setting up HLA epitope match platelet donor registry which will serve platelet refractory patients of our centre.
Contact Details
Laboratory Office Number: (+9122) 68735000 / Ext. No. 5828 /5820
Transplant Immunology and Immunogenetics Laboratory, Room no. 26, CCE Building, ACTREC, Sector -22, Kharghar, Navi Mumbai – 410210 Maharashtra, India
Hospital Fax Number: (+9122) 27405000 / Ext.No. 5758 /5759
Email-id: tii.hla@actec.gov.in
Staff
Staff

| Sr. No. | Name | Designation |
| --- | --- | --- |
| 1. | Dr. Meenakshi Singh | Officer in Charge, Scientific Officer E |
| 2. | Dr. Selma Z D'Silva | Scientific Officer C |
| 3. | Ms. Manisha Tambe | Scientific Assistant E |
| 4. | Ms. Jyoti Rajak | Scientific Assistant B |
| 5. | Mr. Shreedhar Temkar | Administrative Assistant |
| 6. | Ms. Andrea Pinto | Scientific Officer |
| 7. | Mr. Omkar Bhosale | Senior Research Fellow |
| 8. | Ms. Cloris Gonsalves | Research Assistant |
| 9. | Mr. Prasad Mhatre | Laboratory Attendant |
| 10. | Ms. Hridhya Jacob | Observer |